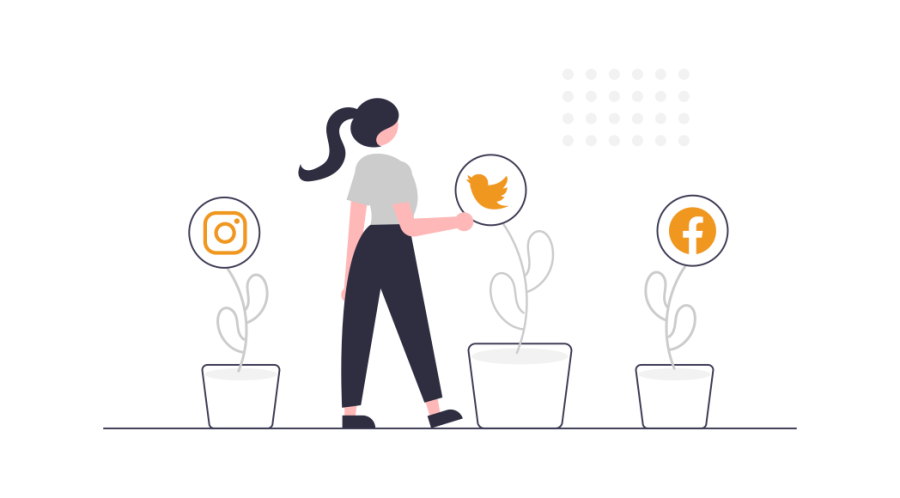 Do you know how to create and maintain a strong social media presence? Need some help staying strong or expanding your voice?
Social Media Marketing Plans start at $450 a month

For less than the price of a print ad, your brand can post daily or weekly posts with custom art across multiple social networks, sharing content crafted for your brand's message and desired outcomes. Posts will undergo custom graphic design with adjustments made for ideal display on a platform-by-platform basis. Your written content will be interesting and helpful, and it will reflect your voice. Posts will be scheduled carefully after multiple levels of proofreading. Your customers and future customers will become more familiar with your voice and message - and will think of you first when it comes time to buy.
Tell your story in the right places
Get the attention of your target audience by bringing your message social spaces where they convene to learn, to be entertained, to seek help, and to be inspired. We start with Brand, and begin to identify and align with your strongest social audiences with custom artwork and our words (or yours!); true to your voice and your mission. We excel at optimizing posts for audiences so they enjoy and anticipate your presence, as part of their life in social media apps. We make sure all the details are in place (using Later.com linkin.bio) to promote authentic brand communication on Instagram, Facebook, Twitter, Pinterest, LinkedIn, even TikTok and YouTube.
Beautiful, Effective Social Posts
Approach, intrigue, and entertain your clients and customers with unique, emotive content that inspires engagement and over time develops into brand authority. From day 1, we deliver consistency and authenticity across your social platforms to foster trust in your brand. Paired with our content strategy services, we connect the dots between your social media posts and e-commerce sales, website engagement, leads, or other goals. Your audience will get used to hearing from you on their social networks, and you will learn what they love about you.
Stay in touch, consistently
Attract curious new followers and earn their stay with communication that stays consistent both visually and in the words. When we, as a team, inform your followers consistently about new products, specials and novel content or announcements, your audience will not just learn about but expect and look forward to your offerings, and we will learn which posts carry the greatest success rates. We will notate patterns in your successful online posts and report back our findings, empowering you to make informed choices at higher levels - straight from the public.
Brand Development is in the bag
Deliver the most to a growing audience with post-by-post tracking and gain solid knowledge about your fans' attention and preferences. When you add content strategy services to our social media content services, we automatically add your social posts to our research, catch trends around your brand, and monitor shifting keyword volumes and other surprises that arise from your audience. Develop your brand's reach and strength while letting us handle the expertise and elbow grease.
Organized Posting - Measurable results
With the benefits present in the use of post-specific analytics and tracking into website analytics, we can spot trends, sweet spots, even audience intentions. Join us in watching at the analytical data around your posts and resulting website traffic or sit back and relax, enjoying increasing attention and sales from your social media posts. Either way, your organization's goals and mission will see more attention and the brand recognition they deserve.
Let us help:
The sooner you tell us we could be working together, the sooner we can get started honing your online presence:
Benefits of Social Media Marketing & Management:
Brand story and offerings posts translating directly to sales.
Growth of audience and interest in your brand.
Engagement with announcements builds brand trust and awareness with compound results.